Crochet Braids Are To Die For!
Have you ever had a crochet braid hair style? They're synthetic hook braids that yo weave into your hair. Unlike cornrows, the crochet braids are twisted into your hair. This helps gives your hair more volume. The best thing about crochet braids though is their ability to be manipulated any hairdo you would want, while making sure that your natural hair remains undamaged. Isn't that amazing!
Top 6 Crochet Hair Style Braids That Will Make Your Head Spin
Here are some different kinds of Crochet hairstyle braids that you should experiment with. Each and every one of them is easy to do and if you feel like you can't do them justice, just go to the salon and ask them to work their magic.
#1 Voluminous Curly Crochet Braids
If you've got short curly hair but they lack volume, then this particular style of crochet braids is exactly what you need. The crochet braids curly hair look is quite possibly the most famous and most done style of curly hair for crochet braids. Just imagine that voluminous hair falling about your head. Imagine the pictures you can take, with your new and improved bouncy hair framing your delicate face.
#2 Colorful Crochet Braids
Like all hair extensions, crochet braids can also be found in various colors. Shades of brown, of red and all the funky colors that you can imagine are easily available for your use. Are you making a top bun? Add some colorful crochet braids and see the top bun come to life in a completely different way than before. Leaving your hair open to the wind? The colorful crochet braids will give it a funkier and a more visage than before.  You can't go wrong with a little color in your life.
#3 Crochet Box Braids
Crochet Box braids hair styles are the perfect look for all those who have or want straight hair. They give that voluminous yet graceful look a woman needs in a formal affair. But if you play with them the right way you can achieve that 90's diva goddess that lives within all us women. Just remember though, to achieve this look you have to dedicate at least 2 hours and the end result will be well-worth the effort.
#4 Twisted Crochet Braids
Every person in the world has at least once in their life had a dreadlocks phase. A phase where it was their deepest wish to rock the dreadlocks for a small portion of time. Sadly, dreadlocks don't suit everyone and not everyone can pull them off but this problem can be easily solved with the help of Crochet braids. twist your crochet braids into a dreadlocks style and you will find that suddenly you don't look half bad at all.
#5 Caribbean Curls Crochet Braids
Have you ever wished for hair like those people in cruise or beach movies? Their hair just whipping about, like free wind in curls around their face? Well, wish no more! That look is perfectly accessible now. All you have to do is twist some Caribbean style crochet braids into your curls. These crochet braids for curly hair will give you a gnarly look. So whether you're at a beach party, a gig or at a casual outing, you will look like you are having the time of your life.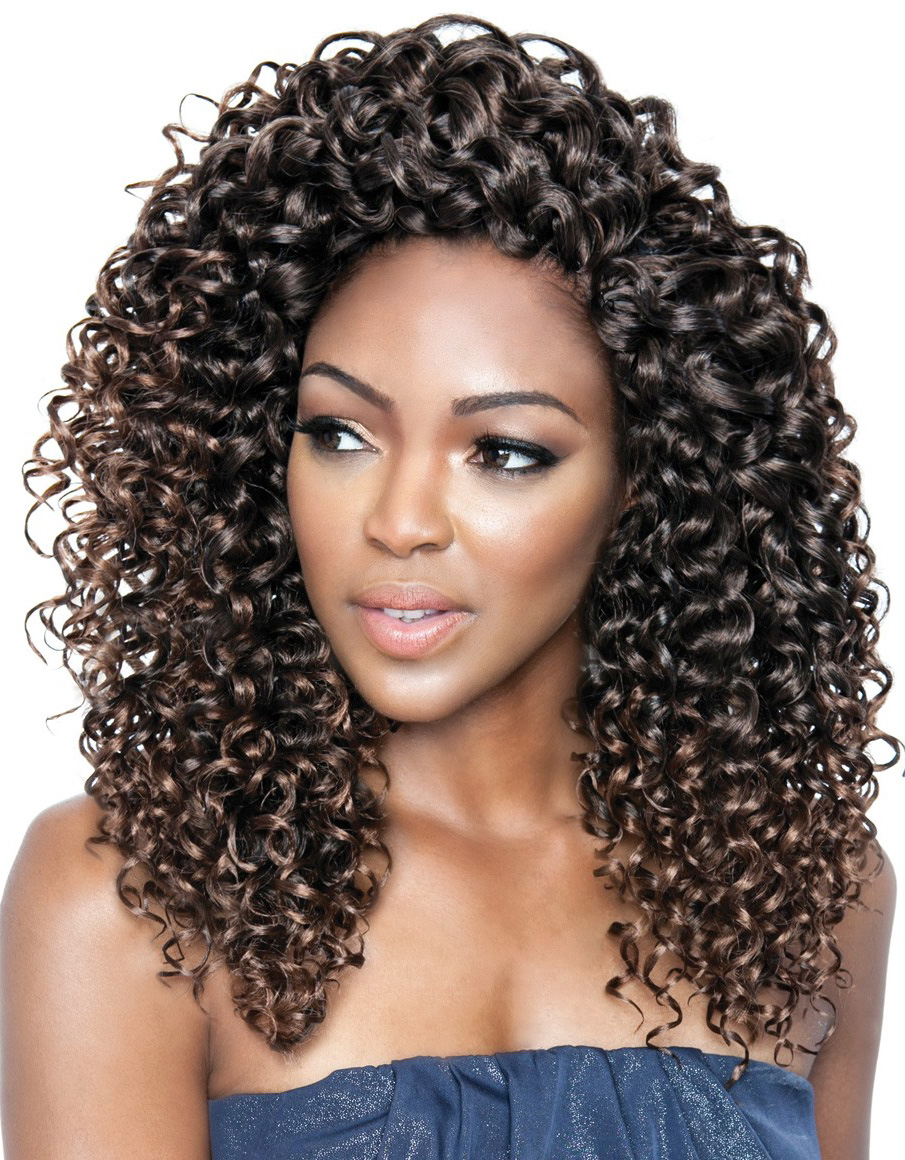 #6 Micro Crochet Braids
Finally yet importantly, last in our list of crochet braid hair styles that are absolutely to die for are the micro crochet braids. These crochet braids are literally a hundred mini braids all locking together to give off a seamless look. Each strand of crochet is braided into micro braids, all falling around your face in heavy strands.